SHOALS AMBULANCE EXPANDS OPERATIONS IN ALABAMA, ADDS 35 NEW JOBS
March 13, 2014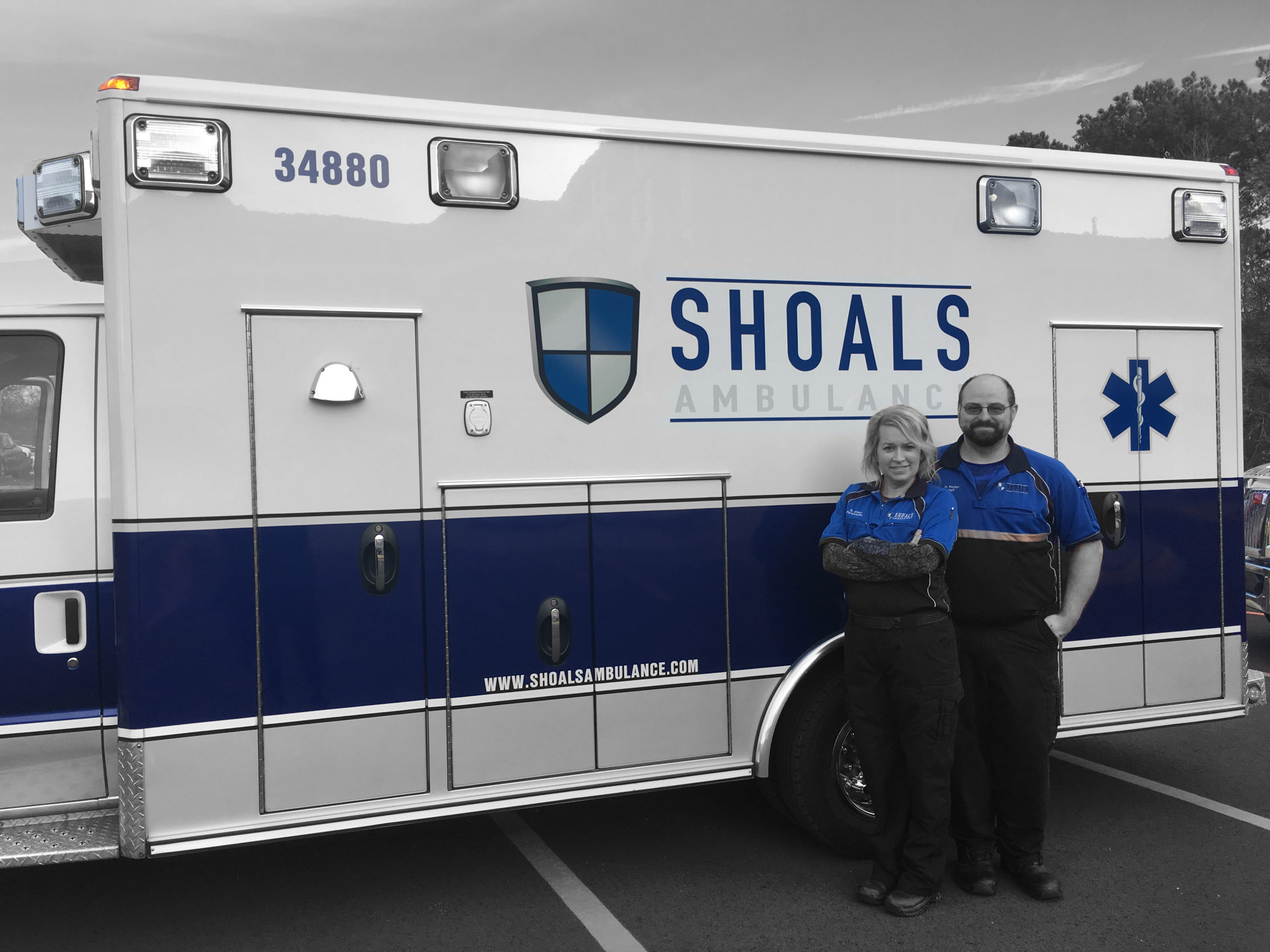 Florence-based Shoals Ambulance announced today the expansion of its operations into Bessemer and Birmingham, bringing more than 35 new jobs to Jefferson County.
Shoals Ambulance Service CEO Bryan Gibson has more than 25 years of experience managing ambulance operations. Gibson founded Shoals Ambulance in 2012, and Shoals Ambulance is currently the exclusive E-911 service provider for Florence and Lauderdale County in Northern Alabama. The company also provides nonemergency transport options in Muscle Shoals.
"We have built a solid reputation for clinical excellence and care for our community in Alabama, and we will extend that same commitment to Birmingham and Bessemer residents," Gibson said. "Our mission at Shoals Ambulance is to raise the bar of pre-hospital medical care to protect the health and well-being of the communities we serve."
In Jefferson County, Shoals Ambulance has equipped five new, customized Mercedes-Benz ambulances with the latest medical technology. Each ambulance has LIFEPAK cardiac monitoring devices that consistently monitor at-risk patients and communicate with the hospitals in advance of the patient's arrival. Basic life support and advanced life support ambulances will provide nonemergency ambulance services to transport patients to and from doctor's appointments, to assisted living facilities and between hospital and medical facilities.
"At Shoals Ambulance, our community is our priority," Gibson said. "We have significantly invested in Alabama with state-of-the-art ambulances and medical equipment. Our greatest strength, however, is our experienced, professional management team and staff who are deeply rooted in this community and are dedicated to providing quality medical care to their neighbors, friends and family."
Shoals Ambulance has recruited a talented team of managers for the Jefferson County office with many years of experience in the medical transport industry in Alabama. Nick Diliberto will serve as vice president of operations for the Alabama Division. He has more than 38 years of experience in local ambulance operations. Eric Messer will serve as director of business development after serving with Rural/Metro and Lifeguard ambulance services for 13 years.
"When you or your loved ones need specialized medical transport, you want the best possible care," Gibson said. "Our caring Shoals Ambulance EMTs and paramedics will transport you safely to your destination while providing the highest level of comfort possible."
Shoals Ambulance's new facility is 15,000 square feet with a training center for ongoing education of EMTs, paramedics and managers. Shoals Ambulance is located in Bessemer, Ala., at 1110 Greenwood Crossing Court.
Shoals Ambulance is a regional office of Priority Ambulance, a corporation of nonemergency and emergency medical transport services currently operating in Alabama, Tennessee and Arizona. Shoals Ambulance is licensed to operate by Lauderdale and Jefferson counties and by the State of Alabama.
To schedule nonemergency transport, call 205-481-0911
About Shoals Ambulance
Shoals Ambulance has provided excellent medical transport services to communities in the state of Alabama since 2012. Shoals Ambulance is the exclusive E-911 ambulance provider for Lauderdale County and the City of Florence in North Alabama. Shoals Ambulance provides nonemergency transport options to Muscle Shoals, Bessemer and Birmingham, specializing in the highest level of comfort and patient safety. Shoals Ambulance staffs state-of-the-art ambulances with more than 30 highly trained, licensed EMTs and paramedics. Shoals Ambulance is a regional branch of Priority Ambulance.
For more information, visit www.shoalsambulance.com.
About Priority Ambulance
Based in Knoxville, Tenn., Priority Ambulance provides the highest level of clinical excellence in emergency and nonemergency medical care to the communities it serves. Throughout its national service area, more than 300 highly trained paramedics, EMTs and telecommunicators staff state-of-the-art ambulances with the latest medical equipment and technology. Priority Ambulance understands it serves best when it supports the causes that matter to the residents in those communities.
For more information, visit www.priorityambulance.com.
# # #
For more information,
Contact: Amanda Shell
Moxley Carmichael
(865) 544-0088