SHOALS AMBULANCE DISPATCHER RECEIVES LIFESAVING AWARD FROM LAUDERDALE COUNTY SHERIFF
July 6, 2015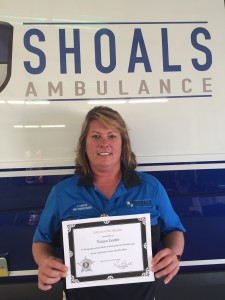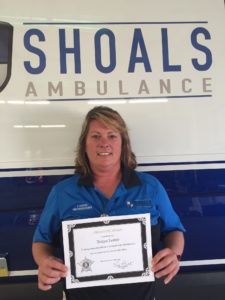 Shoals Ambulance dispatcher Tonya Lester has been honored by the Lauderdale County sheriff for her lifesaving efforts during an emergency call for a man in cardiac arrest. Sheriff Rick Singleton presented the Lifesaving Award to Lester at a Lauderdale County Commission meeting in June.
"I am extremely proud of Tonya for her quick actions that helped save a man's life," said Blake Hargett, Shoals Ambulance operations supervisor. "In cardiac situations, every second counts."
During the 911 call last May, Lester directed Angela Lash to pull her car to a safe place, where she could receive help after her husband, Robbie, went into cardiac arrest on the way to the hospital. The dispatcher assisted Angela Lash and a bystander, Will Bole, in conducting CPR, which kept circulation flowing to the heart while an ambulance was dispatched to the scene.
"Tonya's help in leading Angela and a Good Samaritan bystander in CPR was critical in sustaining Robbie until he could be transported to the hospital," Hargett said.
When Shoals Ambulance paramedics arrived, they were able to successfully resuscitate Lash and transport him to the Eliza Coffee Memorial Hospital cardiac catheterization lab. Just three days later, he was released from the hospital.
At the commission meeting, Lifesaving Awards also were presented to Bole, Sonny Baltimore and David Charles for their roles in saving Robbie Lash's life.
"Lifesaving Awards are given to county residents who go above and beyond to assist others," Singleton said. "We are proud to have excellent emergency workers and citizens in our community who are willing to come together to help save lives, and we are committed to recognizing these local heroes."
About Shoals Ambulance
Shoals Ambulance has provided excellent medical transport services to communities in the state of Alabama since 2012. Shoals Ambulance is the exclusive E-911 ambulance provider for Lauderdale County and the City of Florence in North Alabama, as well as Franklin County. Shoals Ambulance also provides emergency medical service to several communities in Western Jefferson County, including Bessemer, Hueytown and Fairfield. Shoals Ambulance also provides transport options to Muscle Shoals and Birmingham, specializing in the highest level of comfort and patient safety. Shoals Ambulance is a regional branch of Priority Ambulance.
About Priority Ambulance
Based in Knoxville, Tenn., Priority Ambulance provides the highest level of clinical excellence in emergency and nonemergency medical care to the communities it serves. Throughout its national service area, more than 600 highly trained paramedics, EMTs and telecommunicators staff approximately 100 state-of-the-art ambulances with the latest medical equipment and technology.
Priority Ambulance provides emergency and nonemergency medical transport options to communities in Tennessee, New York, Alabama and Indiana. Operating as Priority Ambulance, the company serves Knox, Loudon and Blount counties in East Tennessee. Priority Ambulance operates as Kunkel Ambulance in Utica, N.Y.; as Trans Am Ambulance in Olean, N.Y.; as Shoals Ambulance in Alabama; and as Seals Ambulance in the Greater Indianapolis area.