Shoals Ambulance adds new ambulances, medical director response vehicle to Lauderdale County fleet
October 25, 2016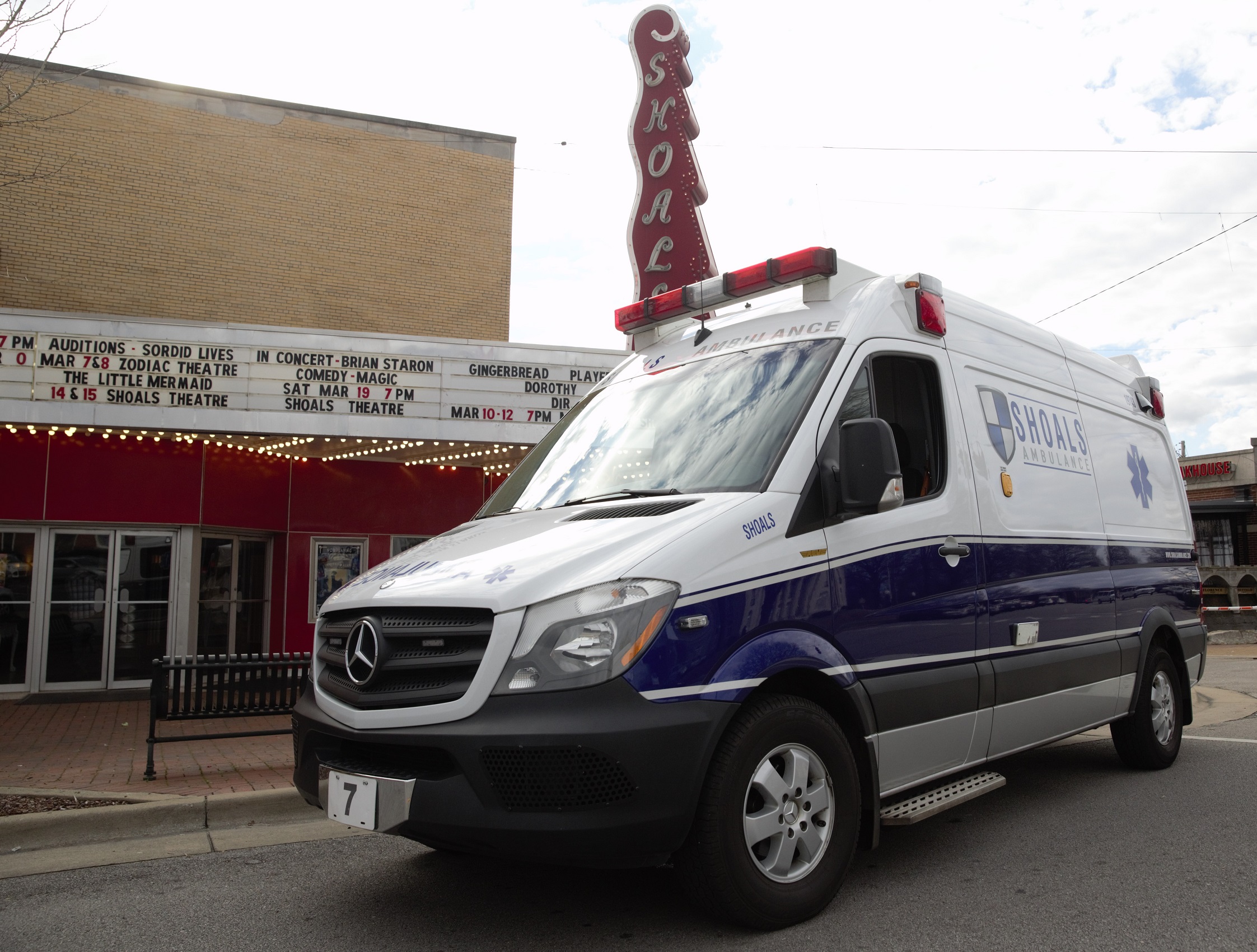 Shoals Ambulance is upgrading its Lauderdale County fleet with new 2016 Ford Transit ambulances and adding an emergency response vehicle to allow the medical director better access to respond to the scene. The first of four new ambulances and the emergency response vehicle arrived in Lauderdale County this week.
"Since 2012, Shoals Ambulance has been committed to providing the highest level of safety and patient care, and our significant investment in Lauderdale County supports that commitment," said Blake Hargett, Shoals Ambulance operations supervisor. "By upgrading our fleet to the latest model and providing our medical director better access to our employees and processes, we will continue to raise the standard of care that we provide to this community."
The ambulances will replace and upgrade four vehicles in Lauderdale County's 10-ambulance fleet over the coming months. The ambulances and the emergency response vehicle represent an approximately $500,000 investment in Lauderdale County's emergency response system.
"Shoals Ambulance is a valued partner and has provided our county with excellent community service since 2012," said George Grabryan, director of the Lauderdale County Emergency Management Agency.
"Shoals Ambulance's investment in new technology and vehicles, as well as collaboration with the county and local first responders, has allowed Lauderdale County to continue to be a high performing emergency response network."
The new emergency response vehicle will be designated for Shoals Ambulance's medical director to be available to respond on-scene to assist with high-risk or high-casualty incidents. The vehicle also will allow the medical director even better access to observe EMTs and paramedics in the field for quality assurance to customize continuing education opportunities for Shoals Ambulance.
"As Shoals Ambulance medical director, I am always on-call to respond to any incident that needs additional oversight or assistance," Shoals Medical Director Hamad Husainy said. "The new emergency response vehicle will allow me to respond quickly and to more easily and frequently make visits to observe Shoals Ambulance EMTs and paramedics as they provide service in the field. This is part of our continuing efforts to continually raise the bar on patient care and clinical excellence."
About Shoals Ambulance
Shoals Ambulance has provided excellent medical transport services to communities in the state of Alabama since 2012. Shoals Ambulance is the exclusive non-emergency and emergency 911 ambulance service provider for Lauderdale County and the City of Florence in North Alabama. Shoals Ambulance also provides emergency medical service to several communities in Western Jefferson County, including Bessemer, Hueytown and Fairfield. Shoals Ambulance also provides non-emergency ambulance transport services in Muscle Shoals and Birmingham, specializing in the highest level of comfort and patient safety. Shoals Ambulance is a regional branch of Priority Ambulance.
About Priority Ambulance
Based in Knoxville, Tenn., Priority Ambulance provides the highest level of clinical excellence in emergency and nonemergency medical care to the communities it serves. Throughout its national service area, more than 1,000 highly trained paramedics and EMTs staff a fleet of more than 250 state-of-the-art vehicles with the latest medical equipment and technology.
Priority Ambulance provides emergency and nonemergency medical transport options to communities in Tennessee, Alabama, New York, Pennsylvania, Indiana, Georgia and Arizona. Operating as Priority Ambulance, the company serves Knox, Loudon and Blount counties in East Tennessee. Priority Ambulance operates as Kunkel Ambulance in Utica, New York; Trans Am Ambulance in Olean, New York and Northwest Pennsylvania; Shoals Ambulance in Alabama; Seals Ambulance in Indiana; Central EMS in Georgia; and Maricopa Ambulance in Arizona.