Shoals Ambulance adds bariatric patient technology to ambulances
March 21, 2017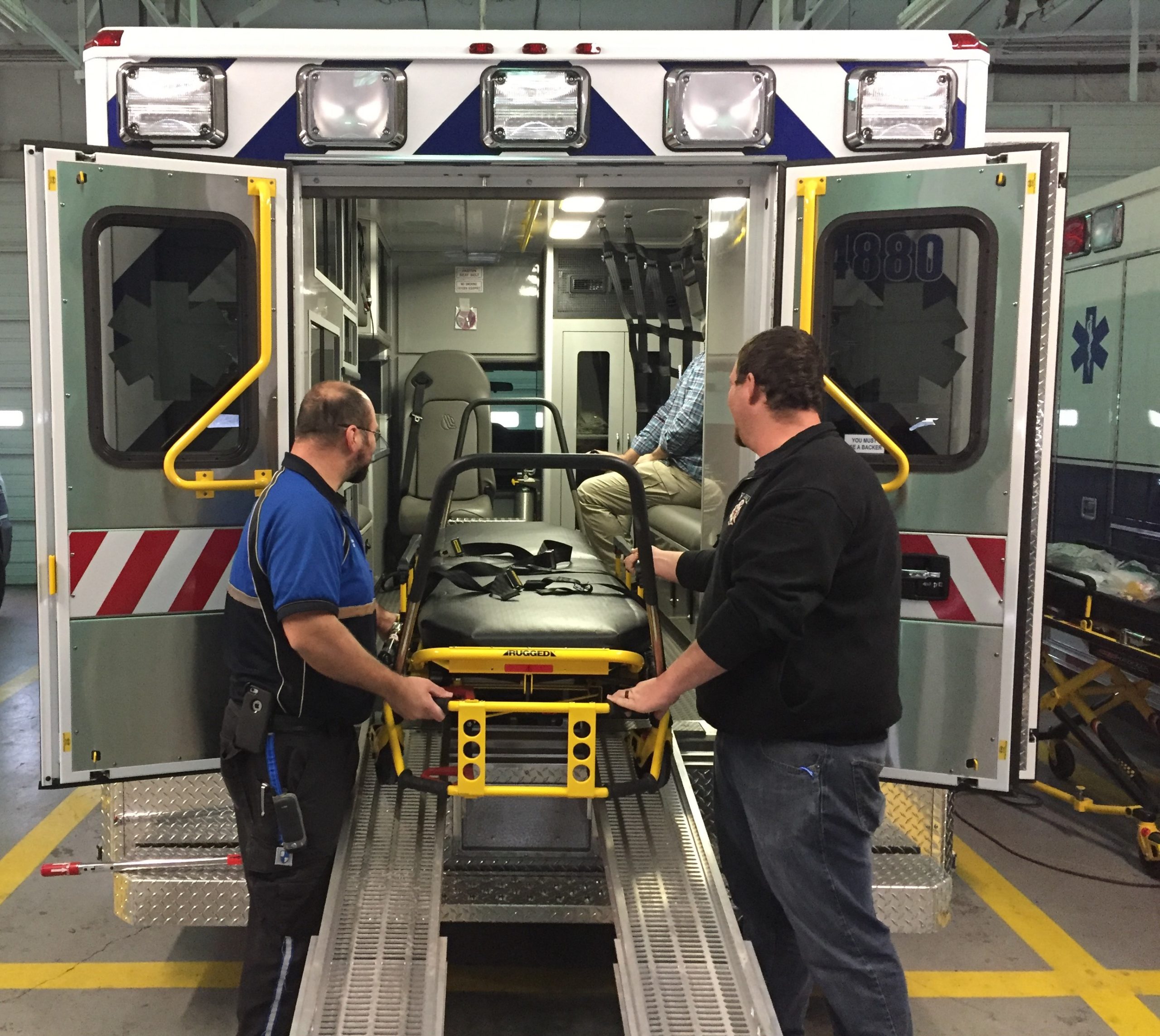 Shoals Ambulance recently completed staff training and deployed a Transafe ramp in its ambulance fleet to accommodate bariatric patients. The ramp can be used in any ambulance and easily attaches to the exterior of the ambulance for EMTs and paramedics to place a standard or bariatric stretcher that will be automatically loaded into the ambulance using a motorized track.
"The comfort and dignity of each of our patients is our utmost concern," said Shoals Ambulance Operations Supervisor Blake Hargett. "The automated Transafe ramp system will allow our EMTs and paramedics to safely and smoothly load every patient regardless of weight into the ambulance."
Specialized EMS technology for bariatric patients is becoming increasingly necessary. Alabama ranked second in the country for adult obesity in a study released in 2016 by the Robert Wood Johnson Foundation. The statewide rate for adult obesity in Alabama is 35.6 percent.
"We are seeing an increased need for specialized bariatric equipment for patient comfort, as well employee safety," Hargett said. "The Transafe ramp will protect our employees from back injuries due to overexertion, which are prevalent in our industry."
According to the Center for Disease Control, 21,300 EMTs and paramedics are injured or fall ill on the job each year, and 7,400 of those injuries are attributed to overexertion, which include back, neck and shoulder injuries. In fact, an ambulance workers is five times more likely to experience an overexertion injury than an average citizen.
Shoals Ambulance currently uses the Stryker bariatric stretcher, which uses motorized technology to raise and lower the stretcher minimizing the effort required by EMTs and paramedics. The Transafe ramp will use a motorized track to load the bariatric stretcher into the ambulance allowing for an overall easier, more dignified transport process.
EMTs and paramedics completed training on the new system last week and the technology is available for use in the Florence and Lauderdale County area.
About Shoals Ambulance
Shoals Ambulance has provided excellent medical transport services to communities in the state of Alabama since 2012. Shoals Ambulance is the exclusive non-emergency and emergency 911 ambulance service provider for Lauderdale County and the City of Florence in North Alabama. Shoals Ambulance also provides emergency medical service to several communities in Western Jefferson County, including Bessemer, Hueytown and Fairfield. Shoals Ambulance also provides non-emergency ambulance transport services in Muscle Shoals and Birmingham, specializing in the highest level of comfort and patient safety. Shoals Ambulance is a regional branch of Priority Ambulance.
About Priority Ambulance
Based in Knoxville, Tenn., Priority Ambulance provides the highest level of clinical excellence in emergency and nonemergency medical care to the communities it serves. Throughout its national service area, more than 1,200 highly trained paramedics and EMTs staff a fleet of more than 250 state-of-the-art vehicles with the latest medical equipment and technology.
Priority Ambulance provides emergency and nonemergency medical transport options to communities in Tennessee, Alabama, New York, Pennsylvania, Indiana, Georgia, Arizona and South Carolina. Operating as Priority Ambulance, the company serves Knox, Loudon and Blount counties in East Tennessee. Priority Ambulance operates as Kunkel Ambulance in Utica, New York; Trans Am Ambulance in Olean, New York and Northwest Pennsylvania; Shoals Ambulance in Alabama; Seals Ambulance in Indiana; Central EMS in Georgia; Maricopa Ambulance in Arizona; and Medshore in South Carolina.