Lauderdale County Commission, Shoals Ambulance honor local students who helped save 9-year-old struck by vehicle
April 5, 2017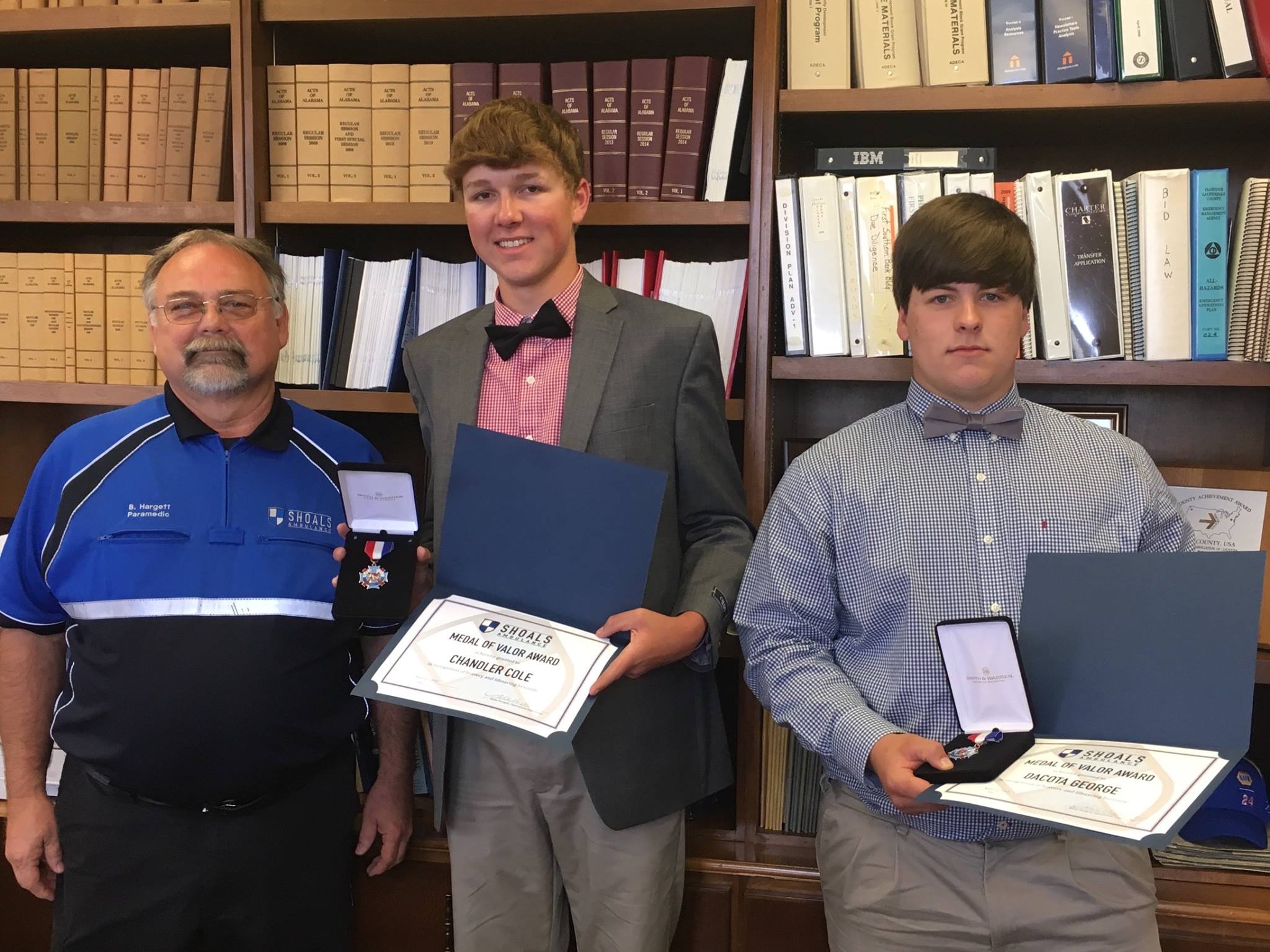 Lauderdale County Commission and Shoals Ambulance are honoring two local high school students, Chandler Cole and Dacota George for their efforts in using their Waterloo Volunteer Fire Department Explorer training to help save the life of a 9-year-old trapped under a car.
Cole and George will be honored with a county resolution from the Commission and a Medal of Valor Award from Shoals Ambulance at the Lauderdale County Commission meeting on Tuesday, April 11 at 1 p.m. at the Lauderdale County Courthouse, 200 S. Court Street, Room 301.
"Lauderdale County is pleased to recognize these young heroes who represent the bright future of our county," said Lauderdale County Commission Chair Danny Pettus. "Their quick thinking and training was instrumental in saving a young girl's life, and our Commission is proud to offer this resolution to recognize their brave actions."
When a car crashed into Waterloo Elementary School in February trapping a 9-year-old girl under the car, it was fortunate that Cole and George were boarding a school bus nearby. The pair are both in the Explorer program at the Waterloo Volunteer Fire Department and have completed years of training in fire and basic emergency medical response.
Cole and George reacting immediately and removed the girl from underneath the car. They stabilized her and stayed with her until the volunteer fire department and Shoals Ambulance paramedics arrived. Due to their fire training, the boys also identified a gas leak caused by the vehicle crashing into the building and turned off the damaged gas line.
"The boys were trained well by the local fire department and knew exactly what to do to stabilize the girl while first responders and paramedics arrived," said Shoals Ambulance Operations Manager Blake Hargett. "It is our honor to join with the Lauderdale County Commission today to offer Chandler and Dacota a Medal of Valor Award. In an emergency, every second is critical, and their immediate action on-scene was vital to the girl making a full recovery."
The patient was airlifted to Huntsville Hospital where she was treated and later at Children's Hospital in Birmingham. She is now recovered and returned to school thanks to the quick response from the Explorers.
The Waterloo Volunteer Fire Department Explorer program is offered to high school students interested in learning more about the firefighting and emergency medical services field. The students receive similar training to volunteer and professional firefighters, including basic fire chemistry, hose evolutions, ladder operations and medical and CPR training.
About Shoals Ambulance
Shoals Ambulance has provided excellent medical transport services to communities in the state of Alabama since 2012. Shoals Ambulance is the exclusive non-emergency and emergency 911 ambulance service provider for Lauderdale County and the City of Florence in North Alabama. Shoals Ambulance also provides emergency medical service to several communities in Western Jefferson County, including Bessemer, Hueytown and Fairfield. Shoals Ambulance also provides nonemergency ambulance transport services in Muscle Shoals and Birmingham, specializing in the highest level of comfort and patient safety. Shoals Ambulance is a regional branch of Priority Ambulance.