Shoals Ambulance expands into Shelby County
March 6, 2019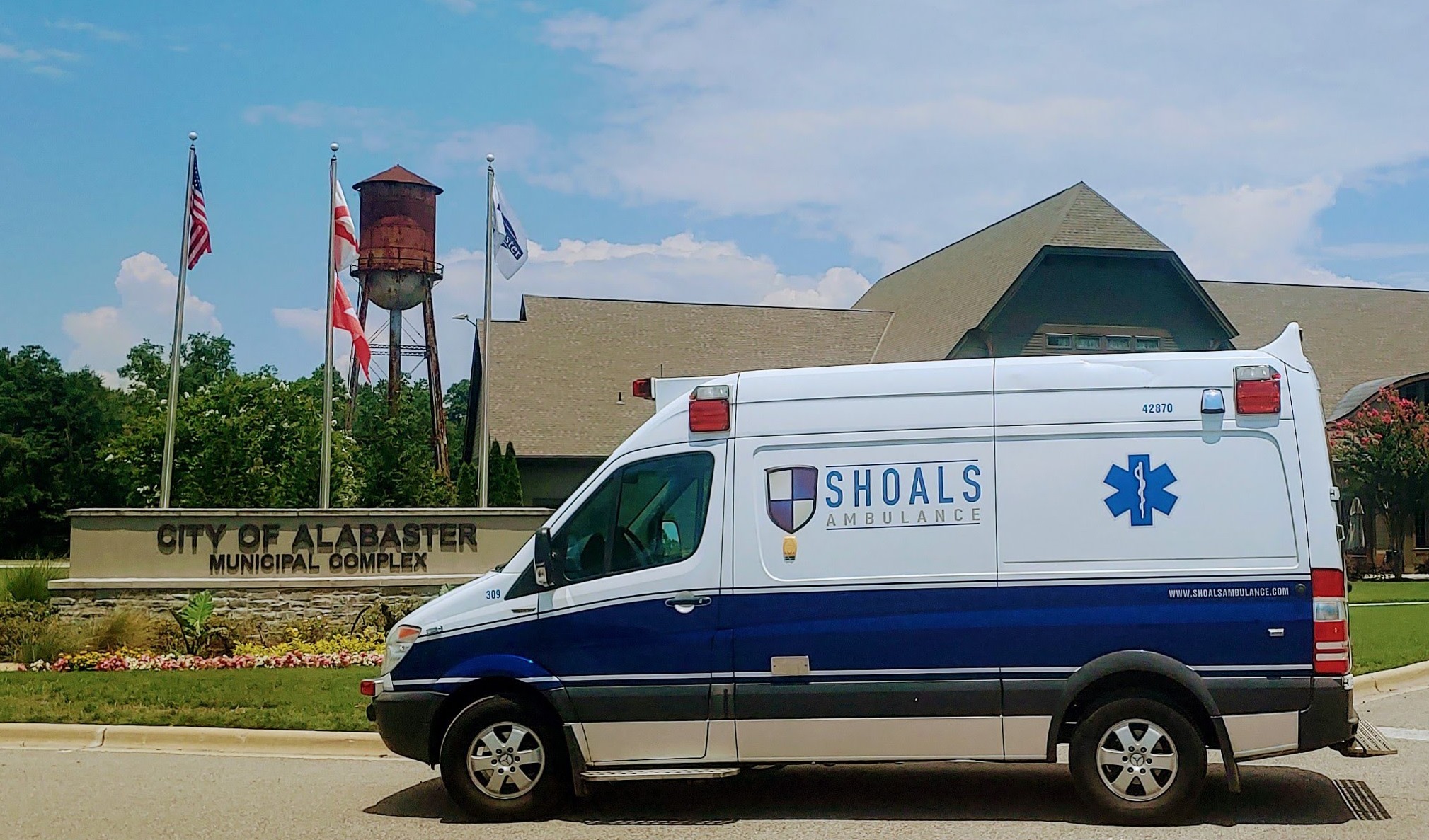 On Monday, May 6, Shoals Ambulance began serving patients, hospital and medical facility customers in Shelby County, Alabama.
Shoals Ambulance was approved last week for its license in the county by the State of Alabama Office of EMS, and the company has already secured contracts with several Shelby County facilities to serve patients.
"In the contacts with the community that we've had leading up to this expansion, we already feel embraced by Shelby County," said Shoals Ambulance General Manager Tommy Widmer. "We are pleased to be able to offer another choice for ambulance transportation to patients, medical facilities and communities within the county.
"We have provided top-quality interfacility transportation and trusted, efficient 9-1-1 response to communities within neighboring Jefferson County since 2014, and we look forward to extending that same quality of service to Shelby County."
Shoals Ambulance's Central Alabama headquarters is located less than five miles from the border of Shelby County to easily respond within the county. The 15,000-square-foot facility currently houses 13 ambulances equipped with advanced medical equipment. Shoals Ambulance staffs BLS, ALS and specialty care vehicles with EMTs and paramedics and is able to customize its service to the needs of any patient, medical facility or community.
"Through our connection to one of the largest national companies in the country, Shoals Ambulance has access to the resources to support this expansion and develop and finance customized solutions for new hospitals and communities," said Widmer. "We're seeking potential partners to discuss ways that Shoals Ambulance can enhance ambulance service in the county through superior clinical quality, advanced medical equipment and accountability for better response times."
Additionally, Shoals Ambulance is supported in its growth by the Priority Ambulance national ambulance network. Priority Ambulance is the fastest-growing private ambulance service in the nation serving more than 400,000 patients annually with approximately 2,800 highly trained paramedics and EMTs staffing a fleet of approximately 500 state-of-the-art vehicles with the latest medical equipment and technology. Priority Ambulance operates in 10 states under trusted local brands providing emergency and non-emergency medical transport services.
Shoals Ambulance is now hiring EMTs and paramedics to work in Shelby County. For more information and to apply, visit www.shoalsambulance.com.
About Shoals Ambulance
Shoals Ambulance has provided excellent medical transport services to communities in the state of Alabama since 2012. The company serves nearly 20,000 patients each year. Shoals Ambulance is the exclusive non-emergency and emergency 911 ambulance service provider for Lauderdale County and the City of Florence in North Alabama. Shoals Ambulance also provides emergency medical service to Jefferson County in Central Alabama, including providing primary 911 medical transport service for the cities of Bessemer, Hueytown and Pleasant Grove and dedicated backup 9-1-1 service to other fire departments in Jefferson County. Shoals Ambulance is a member of the Priority Ambulance family of companies.